As the dig came to an end, we looked around at what has been accomplished in 4 weeks. The result of people from 30 states and 4 countries is astounding! Even as we were shutting down, we continued to have a stream of visitors and dignitaries including Sondra Oster Baras from the Christian Friends of Israeli Communities, and …. We are grateful for the connections we've made with different archaeologists, specialists, groups, and universities.

A view from the square working from West to East
Dr. Mark Hassler opened AD29 adjacent to his previous squares to help with the tall balks. The antiquities authority sends out a safety inspector out to check out the condition of our site and make recommendations. While it can be frustrating to us because all we want to do is dig, it is necessary to take such precautions. Once AD28 had been brought down some, they were able to continue cleaning the face of the Middle Bronze city wall in AD29, which was dug last year. They did uncover yet another denticulation (an off-set), which better lines up with known parts of the city wall.
The next set of squares over, AE29 was dug in previous weeks by my crew. It had the top portion of the city wall, the inside face with Middle Bronze storerooms attaching, but not the outside face of the city wall. The wall was just too big to contain it all! We however still lose a portion of the city wall on the west side of the square, and are looking next year to contect this portion with what Dr. Hassler found this year. This week we moved back to AE30, which had been open last year. We continued down within our Middle Bronze storerooms, Room P2 (Danish), Room AA, and Room BB. We found an almost complete Middle Bronze juglet and wet sift found a scarab in our material. Once again, our wet sift earning its keep!
Moving west, Dr. Don McNeeley in AF29 shares a portion of storeroom Room BB, and has Room CC and a portion of Room DD. Washing lots and lots of pottery is what this team has been doing. The storeroom here were filled with broken pithoi storage jars. Also, they have identified a nice Iron I (time Israelites) silo. They did also find an impressively large scarab while they were dry sifting. Their storeroom walls connect beautifully with the city wall. Having identified the storeroom floor, they believe they're nearing bedrock, but that is a question that must be answered next year.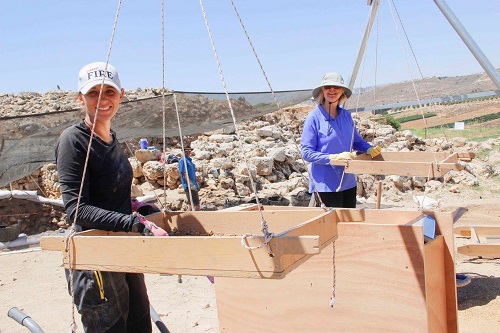 Next to AF29 is, Dr. Boyd Seevers in AG29. This square was newly opened just last week, but has made huge progress. They had the top of the city wall poking through the dirt, along with another storeroom wall. A mechanical engineer in the square did some calculations and figured that in two weeks they moved approximately 94 tons of dirt!
Just to the north, Dr. Kevin Larson opened AG30. It was the quintessential archaeological square with a beautiful Roman Age wall with corner, and every loci neat and tidy. As they proceeded lower, their Roman wall sat on an earlier Iron age wall. They had a Roman Age bag storage jar (named after the way they look) that was broken in-situ, but restorable, and a complete Iron I Age lamp.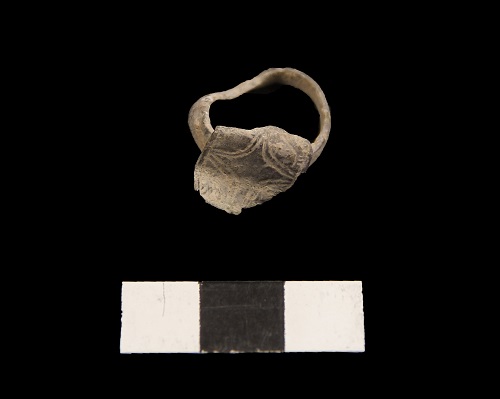 East of Drs. Seevers & Larson was Tim Lopez in AH29 & 30. This was the second year these square were excavated. They have the most walls of any other square with 11! One wonders where they have room to dig. In AH30 a wide Iron Age wall goes into the balk and comes out a skinny Roman wall in Dr. Larson's square. The magic that happens in a balk! While they found a scarab, the most potentially significant find of the season came out of AH30 - a ceramic pomegranate. The pomegranate represents fertility in the ancient world and is a common tabernacle/temple motif.
South of Tim Lopez, Dr. Brian Peterson opened up AG27 and finished AG28 from last season. He began tracing the outside of the city wall from the East side of our field, H1. They came down upon the glacis, a sloping, hard-pack clay against the city wall for defensive purposes. After Dr. Peterson left, Ruth Vanderford picked up the reigns, and finished removing all the mudbrick fill that had fallen on glacis, affectionally named Gladis the Gorgeous Glacis.
Moving west, Henry Smith finished AF27 from last year revealing a Middle Bronze wall moving perpendicular to the city wall. Since the glacis had been found in the adjacent square, Ruth Vanderford also inherited this square, took down the pesky balk, and connected the glacis against this Middle Bronze wall. What that means is a question for next year.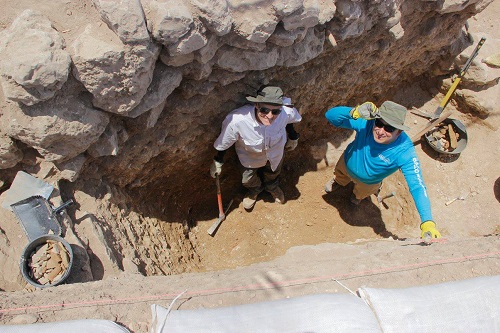 Just to the north, in AF28, our Objects Registrar, Abigail Leavitt, stepped in for ailing Matt Glassman. With only one week, they were to find the face of the city wall, connect it to AG28, find the top of the glacis, and connect the curious Middle Bronze wall to the city wall. It was a tall order, that they achieved with flying colors.
Closing Down
The last day of the dig is slightly different that the close of any other dig day. The morning is spent finishing up last minute loci, and making sure that things are level. After our 10:30am lunch break, all digging and sifting ceases, and the great dust storm begins. Everything has to be brushed cleaned for final pictures, including the dirt! We want to be able to see the dirt, and not footprints. A meter stick for reference is laid in each square. Final measurements are taken for walls to be sent to our architect for a top plan drawing. All the tools and tents are packed back into their bags and taken to the container for off season storage. The pottery from the day is washed and taken back to the hotel for reading the following day. Since we stopped dry sifting at lunch, wet sift is able to catch up and finish all the mesh bags. Some tools are left out for the restoration team next week.
The digging is done. However, the work is not over. Over the next year staff members will be crunching data, writing reports, analyzing finds, and coming up with better ideas for the coming year. We hope to welcome you during the Orientation meeting next year, next year in Jerusalem!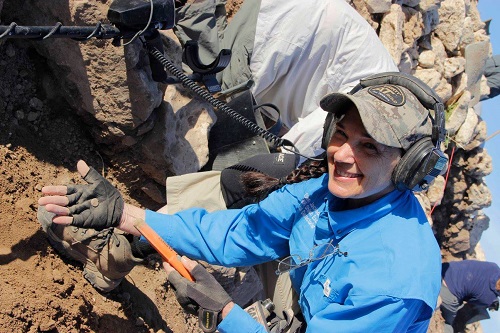 Students from Lee University with Dr. Brian Peterson
(click on the image to view our Shiloh 2018 FaceBook Album).
We will be sharing more of our exciting discoveries in the coming weeks. Please continue to pray for the dig team. You might consider participating in the Shiloh Dig in the summer of 2019. If you wish to support the dig financially, simply follow this link, and specify in the "Instructions" section that you desire to fund the Shiloh Excavations.